Agriturismo Le Spezie

The Agriturismo "
Le Spezie
" is located on the hills of the famous
Prosecco wine
. The farm house, dated 1800, is surrounded by vineyards and a green forest that stretch for 20 hectars. The Agriturismo offers 4 apartments, two for 6 guests, one for 3 people and one small one for 2 guests. The beautiful cities of Conegliano Veneto and Vittorio Veneto are only 5 Km from the "Agriturismo". The A27 highway's exit is also only 3 Km from our farm house. In less than one hour you can be in Treviso, Asolo, Venice, Padua...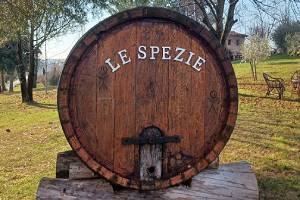 And so are seaside resorts like Jesolo and Caorle and the so-called Pearl of the Dolomites: Cortina d'Ampezzo.
About a kilometer from our "Agriturismo" runs the route called "Ciclovia dell'Amicizia Muenchen-Venezia" the Cycle Path of Friendship between Muenchen and Venice: (560 Km and 3000 meters in altitude through the Dolomites). Our facility is a certified bike hotels and a member of the Club "Treviso province of Sport". We offer services for cyclists (power breakfast, energy products and medical assistance on demand, secure bike storage and workshop corner, bike washing area, maps and itineraries of the area, and excursions with guides on request.
Furthermore, from the estate you can follow the numerous cycling itineraries of varying difficulty around the province of Treviso, which will lead you to discover the most picturesque and breathtaking view and to taste the most delicious local cuisine and wines!
The view from the farmhouse is truly relaxing, with hills and mountains surrounding the visitor to 360 degrees.
Walking through the vineyards, going on to the forest and reaching the nearby stream, visiting the stables, improvising a barbecue dinner at sunset fuelled by wood pruned from the vineyards are only part of the activities you can enjoy during your stay at Agriturismo "Le Spezie".
Ideal place for families to experience farm life and relax from every day's hectic life.